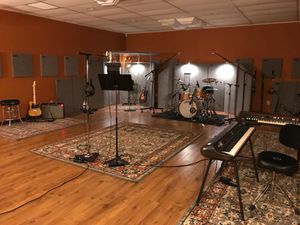 Frequently Asked Questions
Q. What are your studio rates?
A. Our studio rates vary based on the session.
     2-hour session/$110.00
     4-hour session/$200.00
     8-hour session/$375.00
Q. How many songs can I record in a session?
A. Solo artists can usually record up to three songs in a 2-hour session. In comparison, vocal groups would need a 4-hour session, and bands an 8-hour session, to record up to three songs.
Q. Do you offer mixing?
A. Yes. Once all the recordings have been completed, it is time to mix.
Q. What is mixing? 
A.  Mixing is the process of combining multitrack recordings into a final stereo product. Tracks are edited. And then blended together using various processes such as equalization, compression, effects, panning, and volume adjustments.
Q. What is your mix rates? 
A.  Our mix rates vary based on the number of individual instruments and vocal tracks that will need to be edited and then mixed, within each song.
     1-8 tracks/$100.00 per song (Solo Artists)
     9-16 tracks/$150.00 per song (Vocal Groups)
     17-24 tracks/$200.00 per song (Bands)
     25-32 tracks/$250.00 per song (Bands)
     33-40 tracks/$300.00 per song (Bands)
     41-48 tracks/$350.00 per song (Bands)

Q. Do you offer mastering?
A.  Once all of the mixing has been completed, it is time to master. However, for most original music projects we generally recommend hiring a mastering studio for this part of the process. In the event your project does not require third-party mastering, or if you prefer to keep everything in-house. We are able to provide our clients with some basic and essential mastering services for a nominal fee.
Q. What is mastering?
A. Mastering is the final process applied to stereo mixes for industry-standard results. Mastering examples include equalization, compression, and limiting, as well as formatting for duplication and digital release.
 Q. What are your hours?  
A. 10:00 am to 10:00 pm Wednesday thru Sunday.  (All sessions are by appointment only).
Please consider your total budget when booking your recording sessions. Recording, Mixing, and Mastering are only the beginning of a successful music release. You will also need to get your music out there. Marketing, promotion, publishing, and distribution all cost money. And once you've made a recording worthy of sharing with your family and friends, you'll want all of your future fans to hear it as well.